These guys were purchased months ago but I never got around to posting their photos. I'm also using this posting opportunity to talk about a few new things coming to Mattel, updates on quality of items already available by Mattel and my recent purchase which arrived yesterday. Let's begin...
Current City: The Village
Occupation: Professional Football Player - RB (position)
Relationship Status: Penelope Garcia - girlfriend
About Me: Chris' best friend and teammate is Jody Owens.
Liam Carter
Current City: The Village
Occupation: DJ and Rap member of group DL Swag
Relationship Status: Egypt Capri - girlfriend
Egypt Capri
(name change)
Boyfriend - Liam Carter
Samuel Owens
Hometown: Kingston, Jamaica
Current City: The Village
Relationship Status: Married to Beverly Owens
Children: Jody Owens (son)
I gave Beverly the body of Happy Family Grandma (who is now on a Liv body) because she has a large head and I feel this body looks best on her. It's not a perfect complexion match but it works well enough. I think, these two are perfect as Jody's parents. :)
Jody Owens
Girlfriend - Brooklyn Banks
My old new guy:
I received my ATM University AA Ken Doll yesterday and I'm happy with him. I need a new memory card so I can't load photos today, sorry. However, I am including some flickr links which show a comparison of him as Basics Model #17 and ATM doll. I wanted to get multiples of him but he sold out fast!
Tomorrow, I will be ordering one of the Blonde and will eventually order another but I've gotta pace myself financially with school coming up in August. I hope he's still available for me to get a second at the end of July to give Casey Waters (Basics #15) a taller body. I will definitely be on the lookout for more of the AA version, so that I can have at least one more. The doll I received was almost perfect quality wise but his right foot sticks out a little more than the left. There's always something with Mattel. :/
A lot of people have already mentioned, he looks pretty much the same except his hair is darker, lips & face a little fuller and the eyeliner around his eyes a little darker. I like that he looks slightly older though. Now that this hottie has movement, I made some relationship changes (of course). First, his new name is Shawn Banks. He is now the brother of Brooklyn Banks, Tristan Banks and Riley Banks. I love him with my AA Stardoll, especially since I put her back on a Fashionistas body. Her name is now Sasha Ali. She's the oldest daughter of Lena & Tony Ali (Lena is my Halle Berry doll and I gave her a new hubby, photos coming soon).
In case you're wondering who I'm referring to in the "My New Guy" topic above, here are the people in his life. Please note: There's a parent change which includes Brooklyn too....
Sasha Ali - girlfriend
Brooklyn Banks - sister
Tristan Banks - brother
Riley Banks - baby sister
Ruthie Banks - Mother
Robert Banks - Father
There are pre-orders available at Doll Genie for the upcoming Hunger Games Catching Fire dolls which will include two guys; Finnick and Peeta (Finnick is a Hottie!). The price point looks to be at $34.95 but I'm not sure if that's the price Barbie Collector will have. The word in the plastic-hood is the boys will be fully articulate! If so, it will be interesting to see if they'll have the 2011 Harley Ken body or Tim McGraw body. I won't pre-order until I'm sure what type of articulation these boys will have. Anyway, here are the images from Doll Genie...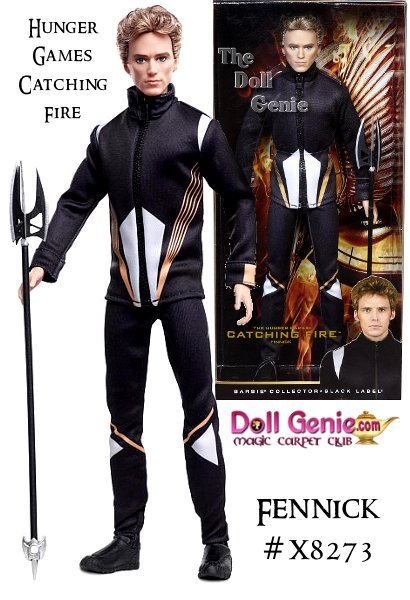 FINNICK: Image by Dollgenie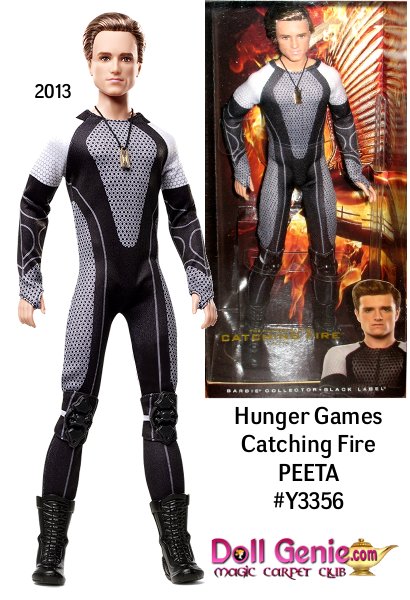 PEETA: Image by Dollgenie
The Hunger Games/Catch Fire series will also include a new female, Effie and a re-styled Katniss (which I don't see the point unless she will be pivotal). If Katniss doesn't get a new body, I'm thinking that's a waste of production money when they could be giving us Lenny Kravitz's character [insert side eye glance here]. The Effie character looks cool, I'm diggin' the Lady Ga Ga look and if she's poseable I'll be adding her to my collection...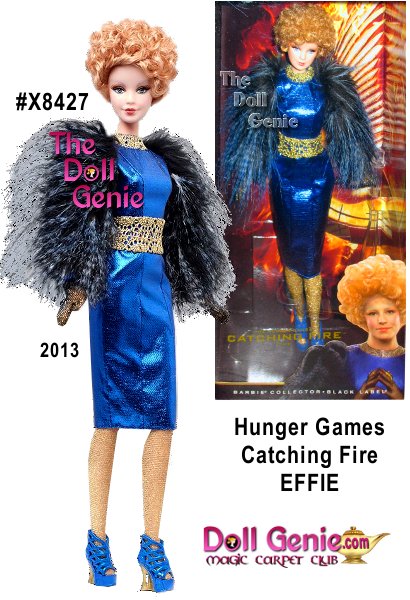 EFFIE: Image by Dollgenie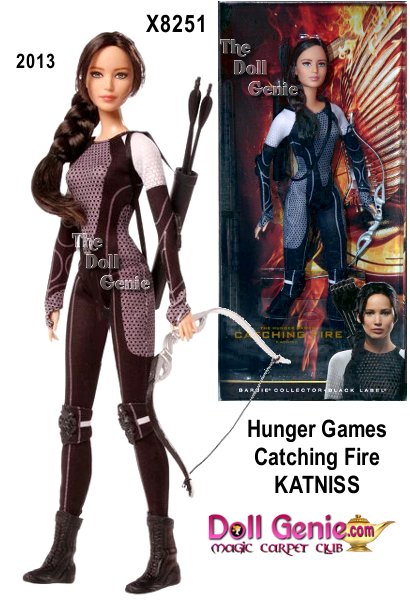 KATNISS: Image by Dollgenie
More News...
I'm sure you are all aware of the Life in The Dream House Barbie collection but I wanted to post new info about them. I know a lot of you may not be interested because they're designed to look just like the web-series characters and might be a little too playline.
Well, several people posted photos on flickr and have said the quality of the dolls has been improved. It's been posted that the joints are stronger and a higher quality of plastic was used which also allows the arms to keep a pose. It sounds to me like they used similar material to the Disney Princess line.
It was also posted the girls have their pivotal torso again (and I think the banded legs) which to me is better than the current restricted hip. Anyway, I had already planned on getting Nikki and Raquelle but Midge is a cutie and I'll add her to my list as well. I didn't have time to wait on permission for image use but I've included a flickr link below... :)
I would like to thank Dani of Vita Plastica for all the gifts she sent me which came with her giveaway prize. I can't wait to get start up again with photo stories because I have some cool things to share. Again, once I get a new memory card I will share the lovely things Dani sent me. In the meantime, I'm going to use her image of my new girl...
Ivanka Ivanov
I'm so excited that Ivanka had instant chemistry with my Ricky Foster! I was worried about finding him a mate because all of my Barbie girls were too wimpy for him. Now, I'm worried about him she's a tigress! LOL.
Rick Foster
At some point I will be announcing my own giveaway but it will be at least a couple of months from now.
Anyway,
sorry for the long post guys but thanks for following. :)